FIELD DATA RECORDER G-MEN series
Acceleration & Impact Recorder G-MEN Series GR01, GR20, DR100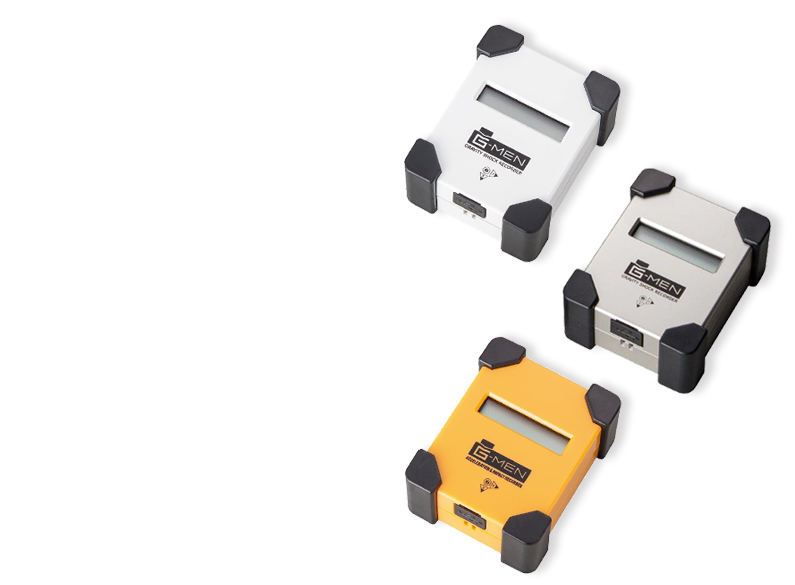 Transport Datalogger for Monitoring
G-MEN is one of the field data recorders with simple functions and has a MEMS type tri-accelerometer and temperature & humidity sensor with about 45-50 days by AA battery. There are 3 models that are 2G, 20G and 100G for selection. All devices have a LCD display that can show you the measured peak acceleration immediately. Measured data can be shown and output as csv file via an analysis software on PC .
[Inspection system]
All devices are through our precision inspection.
[Calibration service]
Regularly calibration service for G-MEN is always available in our company. We can issue a calibration certification sheet of individual G-MEN.
[PC software]
You can download PC software for free via HERE
Features
Built in tri-axial acceleration sensor and temperature & humidity sensor.
Continuous measurement for up to 50days at 10ms sampling *AA size alkaline battery x 2.
Memory capacity 65500 point.
Three different models. (GR01 for 2G, GR20 for 20G, DR100(*1) for 100G)
Application
Distribution environment survey of package freight, and quality control.
Finding problem in distribution environment.
Distribution traceability survey.
Specification
Model
GR01
GR20
DR100(*1)
Acceleration Range (G)
1 / 2 (changeable)
10 / 20 (changeable)
100
Frequency Range (Hz)
DC ~ 100
DC ~ 100
16 ~ 100
Resolution (G)
0.01 (at 1G)
0.02 (at 2G)
0.1 (at 10G)
0.2 (at 20G)
1
Memory size
65500 points
Continuous record time
Maximum 45 days (*2)
Maximum 50 days (*3)
Sampling rate (ms)
1 / 2 / 5 / 10 / 20
Temperature & humidity
Temperature : 0 ~ 50℃, Humidity : 30 ~ 90% rh
Battery
AA battery × 2
Interface
USB mini-C
USB mini-B
Size (mm)
W60.5 × D33.0 × H75.5
Weight (g)
135 (include battery)
OS for software
Windows 7/10 (32 / 64bit)
Operating environment (℃)
0 ~ 50 (non condensing)
*1: after our stock DR-100, model will be changed as GR-100
*2: at 1ms sampling, depends on temperature environment / battery performance
*3: at 10ms sampling, depends on temperature environment / battery performance