Shock & Vibration data logger AccStick
Acceleration Measurement
[Discontinued model, maintenance service only]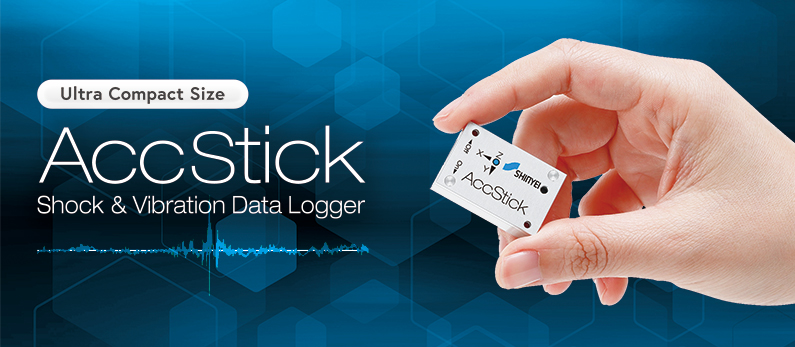 Ultra Compact Size Shock & Vibration Data Logger
This extremely small device with built-in 3D accelerometer, flash- memory and rechargeable battery has been released. 3D acceleration waveforms are captured via high speed sam-pling, at 1600Hz max. Measured data can be described and converted to .csv file via PC software.
【 Download 】
Brochure
Startup guide
Instruction manual
PC software (zip file:2,628KB)
Features
Acceleration measuring with widely range

To measure the acceleration with accuracy, 2 type of accelerometers for vibration,±16G, and for shock,±400G, built into a single unit.

High speed sampling

Acceleration waveform can be captured by high speed sampling, up to 1600Hz.

Small package

The extremely small unit, 32.4×21.0×10.5 mm, will enable you to measure 3D acceleration in any location.

PC software

Via PC software, you can configure the measuring setting to AccStick, and download the data. Measured data is converted as .csv file into your PC automatically.

Accelerometer calibration(Optional service)

To measure 3D acceleration with high accuracy, we provide you optional calibration service. Test report & traceability chart will be attached with your device.
Application
Various automotive applications
Reliability testing for electrical products
Motion monitoring for robots and androids
Logistical distribution such as during loading and unloading, and distribution
Sporting goods development
Production equipment monitoring and maintenance
Specification
Product
Shock & Vibration data logger AccStick
model
A01-16400
Accelerometer
Vibration sensor
±16G with 3axis MEMS
Shock sensor
±400G with 3axis MEMS
Configuration range (G)
Vibration sensor
2 / 4 / 6 / 8 / 16
Shock sensor
100 / 200 / 400
Accuracy
± 5% F.S.
Sampring period (ms)
0.625 ~ 160(selectable, 0.625ms is for vibration sensor only. ± 5% accuracy.)
Flame
100 ~ 500000(selectable)
Trigger mode
Imidiate / Timer / Acc. / Timer&Acc.
Memory
4MB Flashmemory (up to 500000 data)
Power
Lithium polymer rechargeable battery(full charge time : about 60 minutes)
Duration
Up to 72 hours(Acc. trigger mode at 20℃ with full charge)
Depend on temperature, measuring or battery condition
Size (mm)/ weight (g)
W32.4 × D21.0 × H10.5 / 15
Case material
Aluminium (with two M2 screw fixing holes)
Operational temperature (℃)
0 ~ +60 (No condensing)
PC software
Measuring configuration, data download, csv file output
OS:Windows7/10 (32/64bit)
Accessory
Dedicated cable for AccStick, micro USB cable